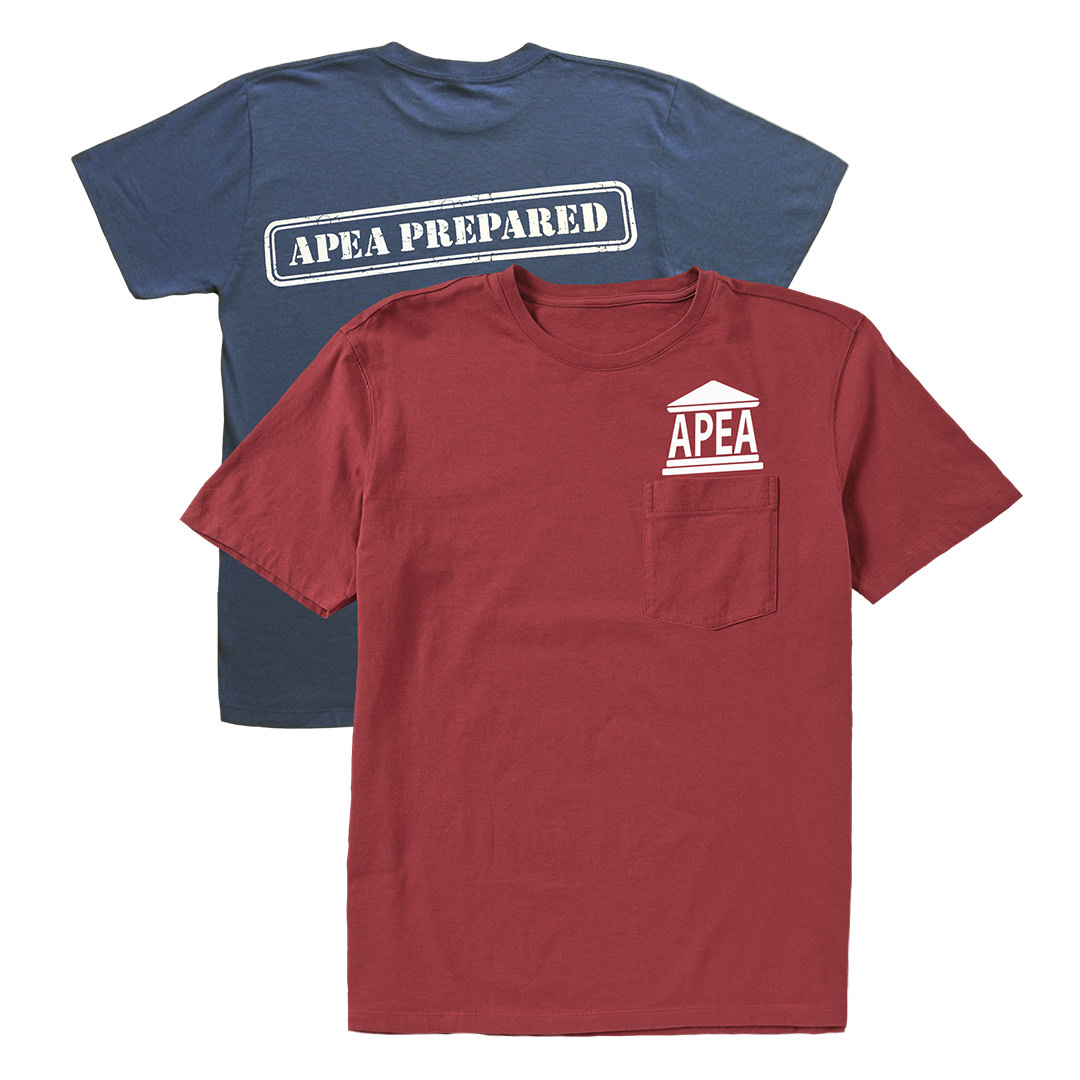 APEA Prepared Tshirt
Total price:
We offer shipping anywhere in the U.S. and Canada.
MP3 PLAYERS
MP3 players are nonrefundable. Defective MP3 players will be replaced up to 6 months from the original shipping date. Replacement MP3 Players will not be shipped until the defective player is received and reviewed by APEA.
PRODUCTS
A refund less shipping cost will be issued for physical products returned to APEA in brand new condition within 30 days from the shipping date. If the product was shrink wrapped, the original shrink wrap must be intact to be eligible for refund. APEA does not pay return shipping charges. APEA reserves the right to change this policy at any time without notice.
All sales are final on the following Clinical Resources (including bundles):
Amelie's Antibiotic Cards
Pediatric Antibiotic Guide
Pharm in a Flash!
Building Blocks Flash Cards
Building Blocks Guide to Growth & Development
Guide to Billing & Coding in the Outpatient Setting
Topical Steroid Prescribing Guide
Tool to Identify Myocardial Infarction
ONLINE AND APP PRODUCTS:
No refunds will be given on products accessed online or in the APEA app.
KITS
Kits associated with webinar events are not returnable. No refunds are provided.
Details
We are proud to introduce APEA's exciting new t-shirts, designed with you in mind.
APEA t-shirts ($20) are printed on Comfort Colors fabric for a soft lived-in look. These 100% cotton shirts are so comfortable you'll reach for them again and again. They're perfect for studying, relaxing and many other activities. 
The front of the shirt displays the APEA logo on the left chest. The back of the shirt declares that you are "APEA Prepared." Wear the shirt to your certification exam for an extra dose of confidence! You're ready because you are APEA Prepared!
APEA t-shirts are available in red and blue, in sizes small through XL. They wash and wear so well, you'll want both colors.
We'd love to see you in your APEA t-shirt. Take a photo and post it on our Facebook page with the hashtag #APEAPrepared, or email it to us at questions@apea.com.
Enjoy your shirt!