New ANCC Exam Blueprint for Adult-Gerontology Primary Care
NP students seeking to certify with the American Nurses Credentialing Center (ANCC) as adult-gerontology primary care nurse practitioners (AGPCNPs) will see a new exam content breakdown starting in December 2019. ANCC recently announced that a new exam blueprint will go into effect on Dec. 16.
As it did with its exam blueprint for FNP candidates earlier this year, ANCC has developed a more clinically focused exam for AGPCNP candidates. The change brings both ANCC exams for primary care specialties (FNP, AGPCNP) more in line with the exams offered by the American Association of Nurse Practitioners Certification Board.
Details of the Blueprint
The new test content outline for ANCC certification in adult-gerontology primary care states that beginning on Dec. 16, 2019, the exam will contain 175 questions. One hundred-fifty of the questions will be scored, and the remaining 25 are pretest questions that will not be scored. Pretest questions are included to assess their suitability for potential inclusion on future exams.
Areas to be included on the new AGPCNP exam from ANCC are as follows: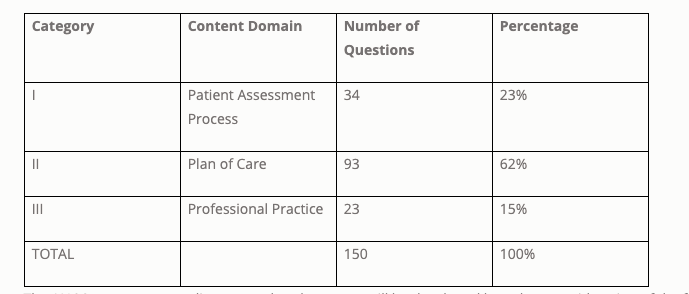 The ANCC test content outline states that the exams will be developed based on consideration of the following classifications:
Body Systems: cardiovascular; endocrine; gastrointestinal; genitourinary and renal; head, eyes, ears, nose, and throat; hematopoietic; immune; integumentary; musculoskeletal; neurologic; psychiatric; reproductive; and respiratory
Drug Agents: analgesic; anti-infective; antineoplastic; cardiovascular; endocrine; eye, ear, and skin; gastrointestinal; genitourologic; immunologic; musculoskeletal; neurologic; psychiatric; and respiratory
Age Group: adolescent, young adult (including late adolescent and emancipated minors), adult, older adult, and frail elderly
Category I: Patient Assessment Process
In the category of patient assessment, the new ANCC exam content will include questions that assess skill in:
The collection of a health and treatment history
Physical examination
Functional assessment (e.g., activities of daily living, instrumental activities of daily living, durable medical equipment)
Social assessment (e.g., health literacy, lifestyle, nutrition, family, cultural issues, spiritual health)
Cognitive and mental health assessment (e.g., symptom recognition, screening tools)
Differentiation between normal and pathophysiologic changes
Category II: Plan of Care
In the category containing questions about plan of care, the ANCC exams for AGPCNP candidates will determine knowledge of and skill in diagnosis, prescribing, implementation and evaluation.
Diagnosis:
Knowledge of evidence-based practice, treatment guidelines and the effects of development and aging on physiology and pathophysiology
Skill in the synthesis of assessment findings, the development of differential diagnoses, and selecting and interpreting diagnostic tests
Pharmacology:
Knowledge of the effects of development and aging on pharmacology (e.g., Beers criteria, physiologic considerations), pharmacogenetics (responses to medications), pharmacokinetics and pharmacodynamics
Skill in pharmacotherapeutic decision making and pharmacology management (e.g., reconciliation, monitoring, interactions, side effects, polypharmacy, deprescribing)
Implementation and Evaluation:
Knowledge of behavioral change, advance directives, palliative care, and end-of-life care
Skill in selecting nonpharmacologic interventions, managing comorbidities, education and counseling, reassessment of treatment plans, and modification of treatment plans
Category III: Professional Practice
Professional practice questions constitute the third category of content on the new ANCC exam for adult-gerontology primary care. These questions will assess knowledge of:
Scope of practice
Regulatory guidelines for practice
Legal issues
Ethical issues
Environmental and social determinants of health
Health promotion and disease prevention
How Should I Study for the New AGPCNP Exam?
To prepare for the new AGPCNP exam from ANCC, study the test content outline and the reference list associated with it. Both documents are available on the ANCC website. The importance of this reference list cannot be underestimated. The reference list associated with the test blueprint provides direction for which sets of guidelines are reflected on the exam content. For additional direction on which guidelines are reflected on the various exams, see our blog post on this topic.
In addition to the resources provided by your certifying body, it is important to comprehensively review the fundamentals you learned during your NP program (pathophysiology, physical assessment, pharmacology). Experts also recommend that you practice answering questions that are written at the level of the certification exams, either in online question banks or in a book of practice questions. For most NP students, attending a review course can provide a valuable opportunity to tie together the many pieces of knowledge acquired during graduate school and apply them to practice. It is also a good idea to study health conditions using an evidence-based clinical guideline book. All questions on the certification exams reflect evidence-based guidelines for the treatment of common primary care conditions. After you have taken these steps, it's a good idea to assess your readiness to sit for certification testing with an exam that is proven to be predictive of your likelihood of success.
We hope you have enjoyed this blog post. Email askamelie@apea.com with questions, comments or topic suggestions.
---