Top Free Apps for Nurse Practitioners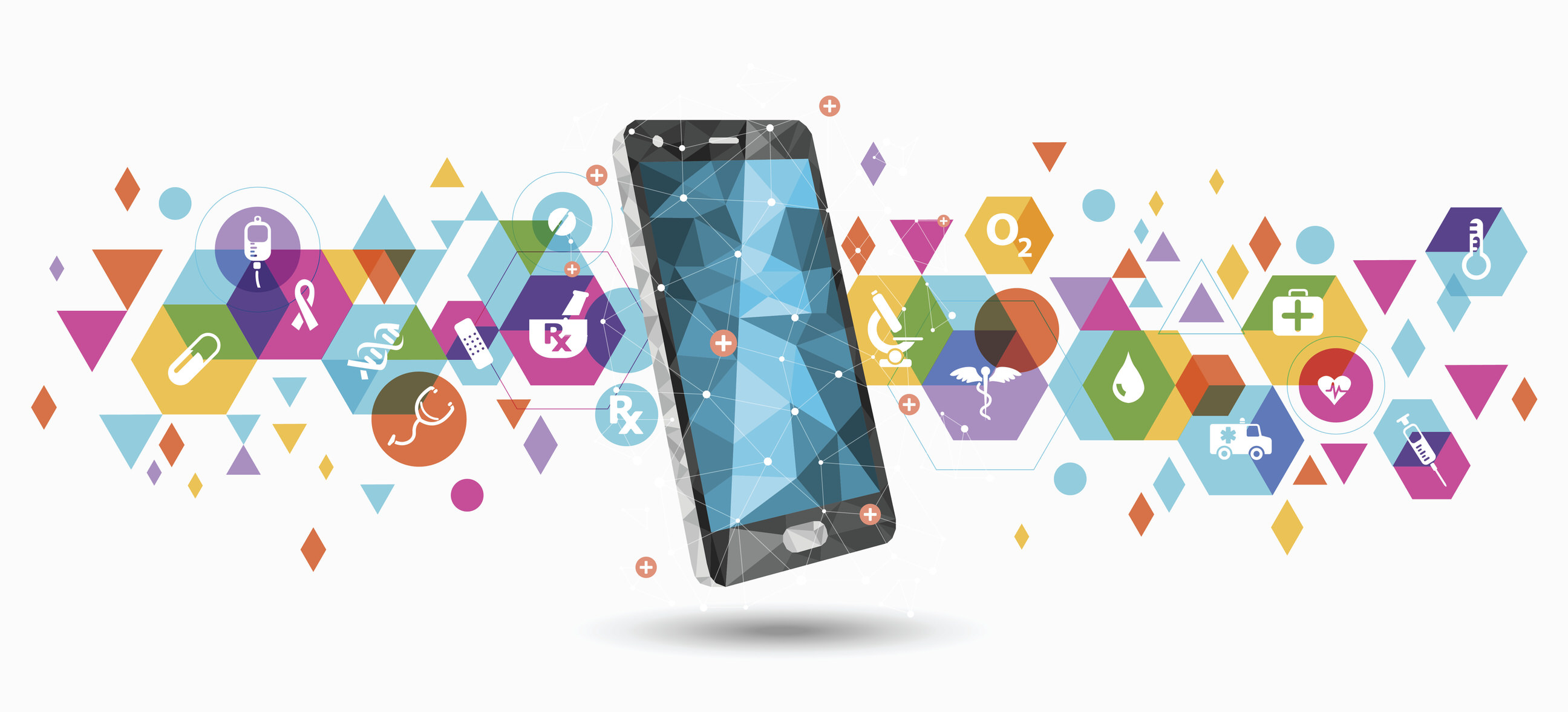 In today's mobile world, we use apps for all kinds of reasons. Apps can help us keep track of our bank account, our favorite sports teams, and the whereabouts of family and friends. Apps can also help NPs and NP students find and apply essential information for the assessment and management of patients. Even better, many of these apps are free! We recently talked with Amelie Hollier, DNP, FNP-C, FAANP, the president and CEO of APEA, about her favorite free apps for nurse practitioners.
AHA Guidelines On-the-Go
The American Heart Association developed AHA Guidelines On-the-Go to provide healthcare professionals with mobile access to current cardiac health guidelines. The app provides information on complex clinical treatment guidelines, including the 2018 AHA guidelines on the following:
Cholesterol (Chol)
Heart attack (NSTEMI)
Valvular heart disease (VHD)
Heart failure update (HF)
Dual antiplatelet therapy (DAPT)
Peripheral artery disease (PAD)
Recombinant tissue plasminogen activator (rTPA)
Rehabilitation
Percutaneous coronary intervention (PCI)
Each guideline contains an executive summary, "things to know," patient education materials, risk assessments, and much more depending on the subject, condition, or disease. The AHA Guidelines On-the-Go app also provides interactive tools such as calculators, scores, and algorithms that help NPs plan a course of treatment effectively. Customer reviews report that the guidelines and tools are easy to use, helpful, and that the app has a user-friendly interface. AHA Guidelines On-the-Go is available for iOS and Android devices.
APEA
Created by Advanced Practice Education Associates, the APEA app allows users to access free materials and purchase APEA products on iOS and Android devices. After purchasing an APEA product available at apea.com, open the app with your My Account login. Your purchases will automatically be synced to your device. The app allows you to:
Watch multimedia courses via the CE Center, where you can earn contact hours and print your certificate
Download and listen an audio review course while following each lecture in the course manual
Easily access CareOnPoint, the mobile reference tool that contains content from the best-selling text, Clinical Guidelines in Primary Care (2018)
Answer practice questions accessible with a MyQBank subscription
Access free media on topics such as prescribing, in APEA's exclusive Pharm Bytes series
Receive automatic notifications when new content is available
View your recent activity from the main menu
Contact APEA via email directly from within the app
An important feature of the APEA app is that you can access content downloaded to your device at any time, even without an internet connection. APEA is accredited by the American Association of Nurse Practitioners as an approved provider of continuing education for nurse practitioners.
ASCVD Risk Estimator Plus
Because atherosclerotic cardiovascular disease (ASCVD) has such a significant impact on the United States population, the American College of Cardiology (ACC) designed the ASCVD Risk Estimator Plus to help clinicians and patients develop a customized 10-year risk-lowering plan. According to the ACC, you can use the app to:
Estimate a patient's initial 10-year ASCVD risk using the pooled cohort equation
Receive an individualized, risk-based, intervention approach for managing LDL-C and blood pressure
Project the impact of specific interventions on a patient's risk
Guide clinician-patient discussion around customizing an intervention plan
Update risk at follow-up based on a patient's response to therapy using the Million Hearts Longitudinal model
Information contained in the app is derived from the 2018 ACC/AHA Guideline on the Management of Blood Cholesterol, the 2013 ACC/AHA Guideline on the Assessment of Cardiovascular Risk, the 2017 ACC/AHA Guideline for the Prevention, Detection, Evaluation, and Management of High Blood Pressure in Adults, and the 2016 Million Hearts Longitudinal ASCVD Risk Assessment Tool user guide. The information and recommendations in this app are intended to support clinical decision making. They are not intended to represent the only or best course of care or replace clinical judgment. Therapeutic options should be determined after discussion between the patient and provider. ASCVD Risk Estimator Plus is available for iOS and Android devices.
ASCVD Prevention Suite
Developed by Nathaniel Lee and Paul C. Lee, MD, of the Cardiovascular Institute at Mount Sinai School of Medicine in New York, the ASCVD Prevention Suite was the first free iPhone app for ASCVD risk calculation when the 2013 ACC/AHA Lipid Guidelines for Treatment of Cholesterol were published. Similar to the ASCVD Risk Estimator Plus, the ASCVD Prevention Suite uses a 10-year ASCVD risk prediction tool. The risk score is based on multiple community-based populations and is considered by some users to be more robust than the Risk Estimator Plus. In addition to calculating the score, the Prevention Suite app allows you to:
Apply the guideline to your patient
Provide specific guideline recommendations related to your patient, based on the calculated risk
Read a synopsis of the 2013 lipid guideline, with links to the original guideline as well as journal articles discussing it
Study the guideline flowcharts, which have been redrawn based on careful reading of the guideline and extensive clinical experience using the guideline
Use the Consult Advisor to quickly generate a model consult report based on the patient data, after calculation of the ASCVD risk. The report incorporates all four ACC/AHA 2013 prevention guidelines (cholesterol, hypertension, lifestyle, and obesity), in addition to JNC8 and the current American Society of Hypertension Guideline (2013)
A Framingham Heart Age Clock (2008) is included to help assess the effects of various risk factors and treatments. The clock helps make patient education impactful (e.g., for smokers resistant to cessation advice). Also included are a set of patient education slides with links to videos that teach practical ways to accomplish lifestyle changes, based on the ACC/AHA lifestyle guideline. Download the app here.
Aspirin Guide
For iOS and Android, the Aspirin Guide app from researchers at Brigham and Women's Hospital helps clinicians decide which patients are candidates for low-dose aspirin (75 mg/day to 81 mg/day) in the primary prevention of atherosclerotic cardiovascular disease (ASCVD) by balancing the ASCVD benefits against the risk of harm due to gastrointestinal or other bleeding. When using the app or the website, clinicians are presented with a series of questions and answers pertaining to their patient's health. Aspirin Guide incorporates this information about the patient's risk factors to calculate a 10-year ASCVD risk score (the ACC/AHA ASCVD score) and a bleeding risk score, which help NPs implement clinical guidelines on the use of aspirin in primary prevention. The app calculates a risk score and offers simple, quick input. It also allows the clinician to email a summary of the decision-making process to the patient.
STD Tx Guide
The Centers for Disease Control and Prevention's Division of STD Prevention developed the STD Treatment (Tx) Guidelines mobile app. The STD Tx Guide app helps providers access diagnostic information and current STD treatment guidelines as well as updates published in Morbidity and Mortality Weekly Reports. Providers who use this app receive quick access to the following information:
Diagnosis and treatment of the 21 most common STDs
Diagnosis and treatment of sexual assault
List of commonly used terms and abbreviations
Access to the full STD Treatment Guidelines
Access to the CDC's "A Guide to Taking a Sexual History"
Push notifications for guideline updates
The STD Tx Guide app is available for iOS and Android devices.
Epocrates
Developed by athenahealth, Epocrates is a drug interaction checker that is available for iOS and Android mobile devices. The app checks for drug-drug interactions among 30 drugs at a time. Interactions are categorized to help you determine the appropriate clinical action. According to the product description on iTunes, the app includes the following:
Drug information - essential prescribing and safety information, including adult and pediatric dosing, adverse reactions, contraindications, boxed warnings, pregnancy and lactation considerations, etc.
Formulary information - national and regional healthcare insurance formularies that identify copay tiers, quantity limits, step therapy guidelines, prior authorization requirements, and alternative drug choices
Interaction check - clinically significant interactions among brand, generic, and OTC drugs and recommendations to mitigate potentially harmful effects
Tables - concise quick-reference guides to find drug information on a wide range of topics, including ACLS protocols, drug class comparisons, endocarditis prophylaxis, vaccinations, Zika virus, and more
Calculators - dosing calculators, medical equations and other tools
Guidelines - patient-specific recommendations from a library of evidence-based clinical guidelines
Pill ID - identify and verify drugs by imprint code, color, shape, or other attributes
Notifications - brief summaries of news from the medical literature, as well as important updates from the CDC and FDA
By upgrading to Epocrates Plus, users can also receive disease information, alternative medications, labs, ICD-10 codes, and other content. In January 2019, the cost of an Epocrates Plus subscription was $174.99 per year.
GoodRx Pro
GoodRx Pro allows clinicians to help their patients save up to 80% on medication prescriptions. Like the GoodRx app, GoodRx Pro can be used on iOS and Android devices. Key features include:
Quick identification of the form, dosage and quantity of a drug
A Favorites list of frequently prescribed medications. The app also sends prices to patients via email or text without revealing your contact information
News on drugs saved to your Favorites list
Ability to order free GoodRx discount savings cards and brochures for patients
No fees or signups are required for patients to save on prescriptions with GoodRx.
Monthly Prescribing Reference (MPR)
Monthly Prescribing Reference (MPR) is a multispecialty drug information resource for healthcare professionals that provides prescribing information, point-of-care tools, and news on hot topics in pharmacotherapy. According to the product description posted on iTunes, features of MPR include:
Prescribing information for more than 4,300 prescription and OTC products, organized by therapeutic area and disease/condition
Quick Search function for drug information by brand name, generic name, disease/condition, or company
Curated daily news on drug therapy and hot topics in medicine, customizable to scope of practice
Breaking news notifications on safety alerts and recalls
Automatic, real-time updates to prescribing information
150+ clinical charts for quick product comparisons, as well as treatment algorithms and guidelines
100+ medical calculators that simplify complex formulas, scores, and classifications
An internet connection is not necessary to access prescribing information and tools. MPR is available for iOS and Android.
MyFitnessPal
From Under Armour, MyFitnessPal is a smartphone app and website that tracks diet and exercise to determine optimal caloric intake and nutrients. Users can generate nutrition reports to share with healthcare providers. For both iOS and Android, the app offers the following:
A food database containing more than 6 million items
Barcode scanner for logging foods
Recipe importer
Restaurant item logging
Food insights to guide decision making
Ability to create and log foods, recipes, and meals
Calorie counter
Nutrient tracker: calories, fat, protein, carbs, sugar, fiber, cholesterol, vitamins
Customized meal diary
Water tracking
Weight tracking
MyFitnessPal is free to download and use. MyFitnessPal Premium is associated with fees. Both versions of the app can be integrated as a partner in weight management. Patients can generate reports from the tracked foods to share with providers.
Statin Intolerance
Created by the American College of Cardiology, the Statin Intolerance app guides clinicians through the process of managing and treating patients who report muscle symptoms while on statin therapy. Clinicians can use the app to:
Answer questions to evaluate possible intolerance to a patient's current statin prescription
Follow steps to manage and treat a patient who reports muscle symptoms on a statin
Compare statin characteristics and drug interactions to inform the management of LDL-related risk
The information and recommendations in this app are derived from the 2013 ACC/AHA Guideline on the Treatment of Blood Cholesterol to Reduce Atherosclerotic Cardiovascular Risk in Adults and the prescribing information for each statin. The recommendations in this app are intended to support clinical decision making. They are not intended to represent the only or best course of care, or to replace clinical judgment. Therapeutic options should be determined jointly after a clinical evaluation and discussion between the patient and their provider. This app is available for free in the iTunes and Google Play app stores.
PneumoRecs VaxAdvisor
Created by the Centers for Disease Control and Prevention in collaboration with the Georgia Tech Research Institute, the PneumoRecs VaxAdvisor mobile app helps vaccination providers quickly and easily determine which pneumococcal vaccines a patient needs and when. The app incorporates recommendations for all ages. Users simply:
Enter the patient's age
Note whether the patient has specific underlying medical conditions
Answer questions about the patient's pneumococcal vaccination history
Afterward, the app provides patient-specific guidance consistent with the immunization schedule recommended by the U.S. Advisory Committee on Immunization Practices (ACIP). The app is available for iOS and Android devices.
We hope that you find one or more of these free apps useful for your practice. Email askamelie@apea.com with your feedback and with suggestions for future blog posts.
---