Educators explore reasons for pass rate declines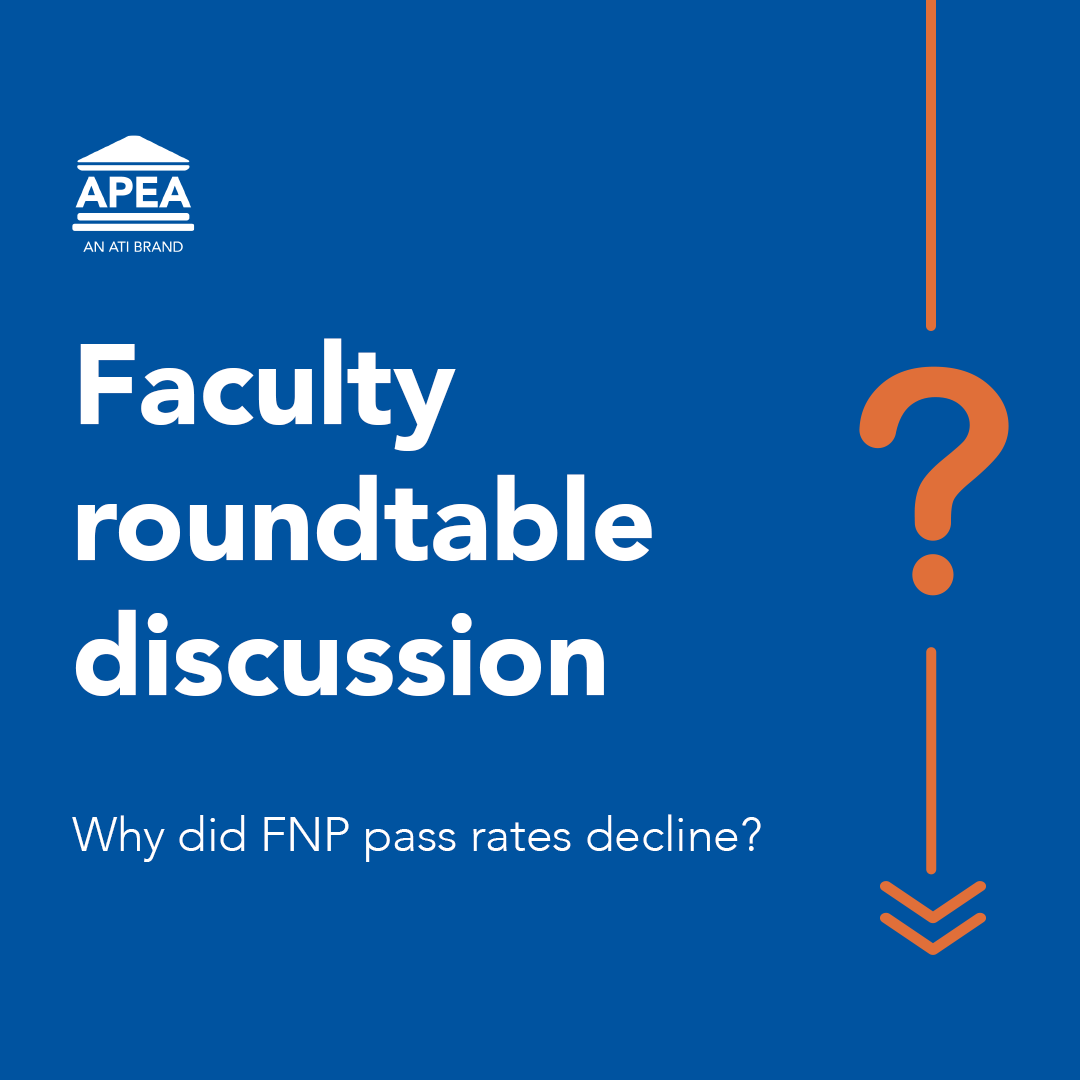 Nurse practitioner faculty from throughout the country pointed to far-reaching effects of the covid pandemic, shortfalls in student preparation, and a dearth of clinical sites as major reasons for the significant decline in family nurse practitioner pass rates in 2022.
During discussion and polling at the inaugural APEA NP Faculty Roundtable on Oct. 3, 2023:
36% of attendees said the pandemic was the most influential factor on FNP results
32% identified insufficient student preparation as the primary contributor, and
20% pointed to a lack of appropriate clinical sites.
APEA developed the NP Faculty Roundtable to provide NP educators with a collaborative forum to share challenges, solutions and observations. Key members of APEA's nurse practitioner faculty — Kathy Baldridge, DNP, FNP-BC, FAANP, Lindsey Luther, DNP, APRN, FNP-C, CNE, EBP(CH), and Betty Vicknair, MSN, APRN, PNP — led a lively discussion focused on the 10% decline in pass rates on the American Academy of Nurse Practitioners Certification Board FNP exam last year. Future NP Faculty Roundtables will focus on other key topics in NP education.
Pandemic effects on certification success
"The students who graduated in 2022 would have started their programs around covid time," one attendee wrote during the active chat discussion. "They experienced increased stress with increased working, everyone getting sick, difficulty obtaining preceptors, and less interaction with faculty."
Several attendees flagged the pandemic-forced pivot to completely virtual teaching and the significant adjustments required of students and faculty. In some cases, attendees said, the situation influenced the makeup of the cohorts educated between 2020 and 2022.
"Enrollment declined during this time, and we changed to online teaching," one attendee commented. "Students were admitted who may not have been if there had been more candidates."
Other faculty comments about pandemic effects included:
"These students had more changes in their work, making it difficult for them to focus on their NP program. It was hard for them to let go of their RN work opportunities when the pay scale increased."
"I agree that online education has a big impact on pass rates."
"There is significant PTSD related to covid and working during covid. This has long-term effects."
Student preparation as an influential factor
Several faculty members identified reasons why insufficient student preparedness contributed to lower FNP pass rates. They included:
limited RN experience, especially in bedside or acute care roles
inadequate focus on NP studies due to working full time
difficulty balancing the demands of graduate school, work, and home life.
The group acknowledged that these preparedness issues are likely to continue, and that educational programs need impactful ways to support and motivate NP students as they navigate them.
Looking toward higher FNP pass rates in 2023
During the event, the APEA moderators invited the roundtable participants to share steps their academic programs have taken to improve student performance on the certification exams this year and going forward. The educators listed multiple initiatives and resources, including:
confirming a solid foundation in advanced pathophysiology, advanced pharmacology, and physical assessment using a 3P exam
providing comprehensive certification preparation that incorporates a review course and predictive exams to evaluate exam readiness
implementing curriculum revisions, new innovative teaching methods, and competency-based education strategies.
Many of the roundtable participants expressed confidence that 2023 testers will be more successful on the FNP exam, with a small number stating uncertainty.
"I think our scores will improve because students are experiencing less burnout secondary to the pandemic. Also, the available of preceptors has improved," one faculty member said.
Another attendee's comment is one that many hope to soon express: "Our pass rate has already increased in 2023!"
For more details on 2022 FNP pass rates, see the NP Insider blog post linked here.
To receive announcements about future NP Faculty Roundtable events, follow APEA on Facebook, LinkedIn, or Instagram.