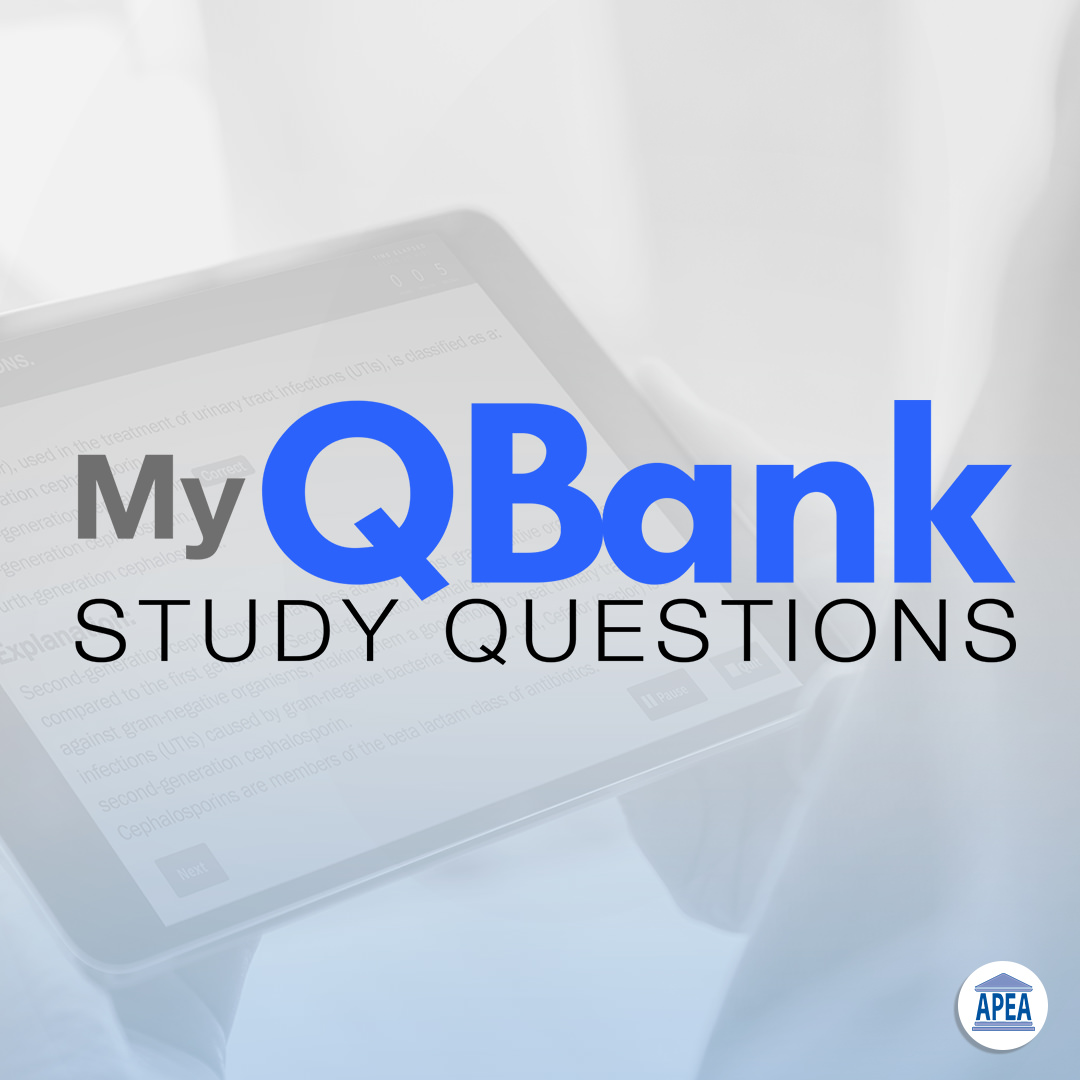 MyQBank Study Questions for NP Students
MP3 PLAYERS
MP3 players are nonrefundable. Defective MP3 players will be replaced up to 6 months from the original shipping date. Replacement MP3 Players will not be shipped until the defective player is received and reviewed by APEA.
PRODUCTS
A refund less shipping cost will be issued for physical products returned to APEA in brand new condition within 30 days from the shipping date. If the product was shrink wrapped, the original shrink wrap must be intact to be eligible for refund. APEA does not pay return shipping charges. APEA reserves the right to change this policy at any time without notice.
All sales are final on the following Clinical Resources (including bundles):
Amelie's Antibiotic Cards
Pediatric Antibiotic Guide
Pharm in a Flash!
Building Blocks Flash Cards
Building Blocks Guide to Growth & Development
Guide to Billing & Coding in the Outpatient Setting
Topical Steroid Prescribing Guide
Tool to Identify Myocardial Infarction
ONLINE AND APP PRODUCTS:
No refunds will be given on products accessed online or in the APEA app.
KITS
Kits associated with webinar events are not returnable. No refunds are provided.
Details
MyQBank: Study Questions for NP Students
APEA MyQBank questions help develop the knowledge and critical thinking skills you need to correctly answer questions on the NP certification exams. Each bank contains 800 questions with thorough rationales. Answer questions by body system or testing domain, and generate practice tests using our customizing feature (random, body system-specific, missed questions, new questions). Use the performance tracking capabilities to fine-tune your study plan! MyQBank is available in 3-month, 6-month and 9-month subscription plans.
Six Banks to Choose from:
MyQBank Assessment is a bank of study questions that develop the knowledge base and skills essential for the patient workup. The 800 questions and rationales lay the foundation for obtaining the patient history and chief complaint, performing the physical examination, and ordering diagnostic testing, and identifying disease presentation. NP students will find these practice questions essential for success in the early part of their NP program, as well as for clinical rotations.
MyQBank Pathophysiology provides 800 questions focused on the etiology and pathogenesis of commonly occurring conditions in all body systems. MyQBank Pathophysiology is the first and only question bank for NPs that is focused exclusively on pathophysiology. It contains hundreds of images and visual supports to assist in learning and retention. MyQBank Pathophysiology helps you:
Recognize normal system functioning
Distinguish abnormal functioning of disease states
Identify signs and symptoms of disease
Recognize differential and confirmed diagnoses
Prepare to develop treatment plans
Relate clinical manifestations to specific diseases
Set a foundation for critical thinking
MyQBank Pathophysiology is an excellent component of preparation for the APEA 3P Exam, and it is a foundational tool for clinical rotations, certification preparation, and patient care.
MyQBank Prescribing is the only NP-developed and NP-specific practice question bank to build pharmacology knowledge and prescribing skills! The MyQBank Prescribing question bank contains 800 study questions with rationales — all designed to prepare you to safely and effectively prescribe for a range of patient presentations.
MyQBank Management provides 800 study questions to fine-tune your skills in making diagnoses, generating differentials, developing plans of care, and evaluating treatment plans and outcomes. Work in the Management question bank to help ensure that you are ready to treat patients in clinical rotations and in practice. Detailed rationales help prepare you for the AANP and ANCC certification exams and clinical practice, and detailed performance reports show you how you are progressing.
MyQBank Pediatrics is the first and only question bank that is focused exclusively on all aspects of pediatric health management. MyQBank Pediatrics contains 800 questions with detailed rationales. All are focused on the pediatric diagnoses commonly seen in primary care settings. Question content covers physiologic and psychologic needs of children in the areas of health maintenance and promotion, assessment, pathogenesis, diagnosis, and disease management. MyQBank Pediatrics contains images and visual supports to assist in learning and retention.
Pricing for each bank:
3 months: $64.95
6 months: $99.95
9 months: $129.95
*Note: Refunds are not available for MyQBank subscriptions or any other online/digital product sold by APEA.
Excellent course and Qbank!!! Definitely worth the cost! Passed on first try.
Jessie
I completed the live webinar review during my last semester of school and did every single one of the MyQBank questions I had access to. I passed my board exam yesterday and still can't believe it. The exam is tough, there is a TON of material but these ladies break it down to what you need to know for not only the exam but also for clinical practice. If I had to do it all over, I would still pick this review 100%!
Christina
I attended the live review in April last year. I would like to say that the review helped with my didactic exams. In addition, I used the predictor exam, live review and the Qbank. I blew through the questions with 2 hours left in my exam! Majority was PEDS and Asthma. I am eternally grateful to APEA for the comprehensive review and study materials. Moving on! Thank you! Eugenia
Eugenia
Great study tool. Almost identical questions seen on exam.
Cortney