Click on book to
Look Inside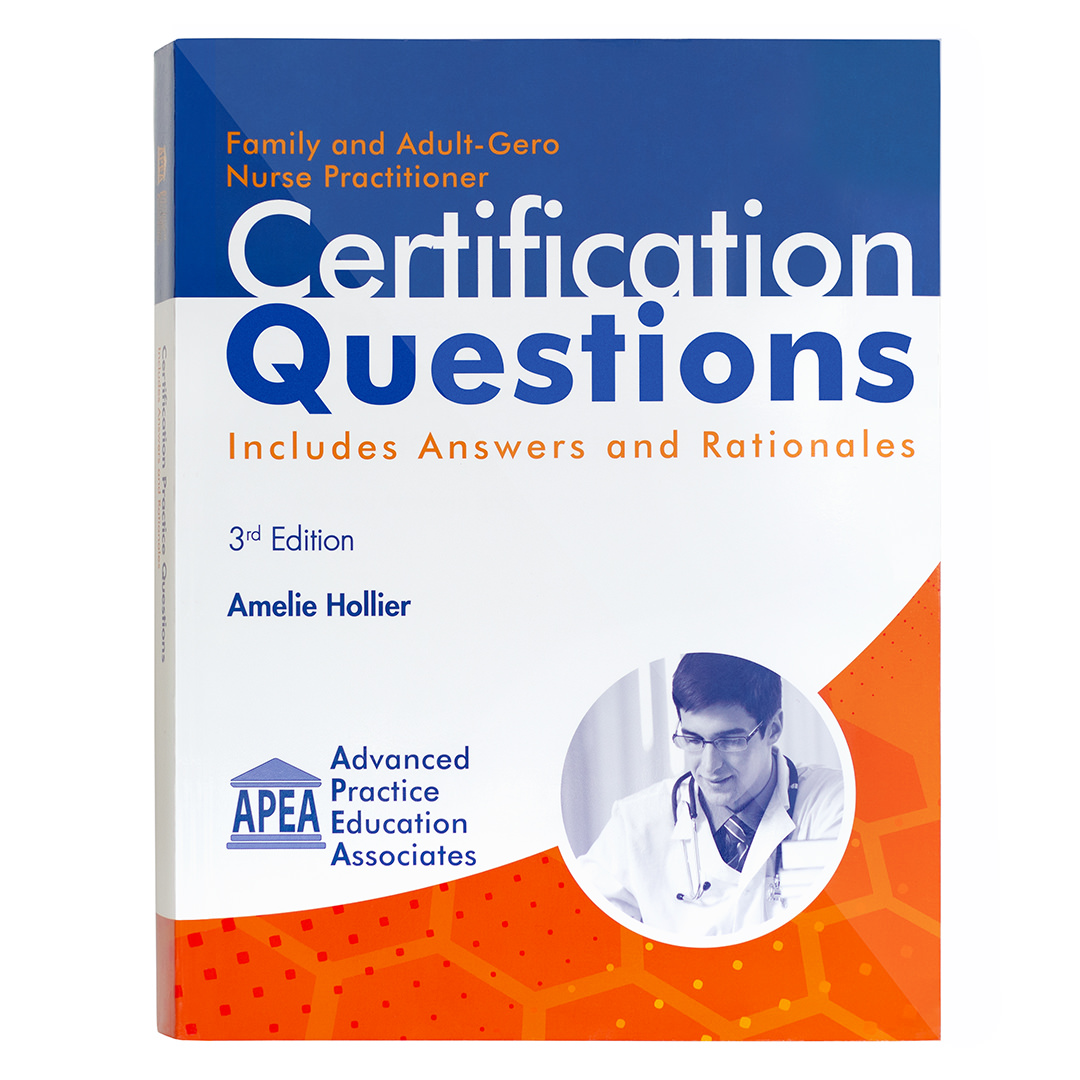 NP Certification Practice Questions
Details
Family and Adult-Gero Nurse Practitioner Certification Practice Questions is a tested and treasured tool for NP students preparing for certification.
This edition incorporates current clinical evidence and practice guidelines into a resource that NP graduates have been using to successfully prepare for the AANP and ANCC exams for years. The book provides 1,100 multiple-choice, competency-based questions to test students' knowledge and, importantly, their ability to apply that knowledge in clinical situations. In addition to the questions, the 3rd edition provides three practice exams for family NP certification prep and three practice exams for adult-gerontology certification prep. Note: The 3rd edition was completely reviewed and affirmed in January 2022. In addition, questions and rationales are updated as necessary with each printing of the 3rd edition.
The question selection and development for all books in APEA's Certification Practice Questions series reflect the content categories of the AANP and ANCC adult-gerontology and family nurse practitioner exams: health promotion; disease prevention; diagnosis and management of acute and chronic illnesses across the life span; the research process; and professional issues.
To effectively use the book, APEA recommends studying individual subject areas using course materials or reference books such as APEA's Clinical Guidelines in Primary Care and then answering the questions that correlate with that subject. For example, review material on hematology and then turn to the collection of questions about hematology in Certification Practice Questions. These are clearly identified in the table of contents. After sufficient reading and review in all areas, it is appropriate to take one of the practice exams included in the book.
Overview of Sections
Section I
Subject-specific questions, answers, and rationales arranged in an easy-to-use format. Assess your knowledge and test-taking ability in the following areas:
Cardiovascular Disorders
Dermatology Disorders
Endocrine Disorders
Eye, Ear, Nose and Throat Disorders
Gastrointestinal Disorders
Hematology Disorders
Men's and Women's Health
Neurological Disorders
Orthopedic Disorders
Pregnancy
Professional Issues
Psychosocial Disorders
Respiratory Disorders
Urology and Sexually Transmitted Diseases
Section II
This section contains three 150-question practice exams for FNP students and three 150-question practice exams for adult-gerontology NP students. Each practice exam contains answers and rationales and reflects the content on the AANP and ANCC exams for these certifications.
In addition, Section II provides questions on complementary areas of clinical practice for FNPs and Adult-Gero NPs. For family NP candidates, the book provides 100 practice questions focused on pediatrics. For adult-gero NP candidates, the book contains 100 questions focused on geriatrics.
This book is a must-have resource for all students preparing for the FNP or Adult-Gero exams. It is the perfect companion to APEA's Clinical Guidelines in Primary Care. Prefer to answer questions online? Visit APEA's MyQBank for the ultimate online study tool!